Announcements
---
KWVA Presents $10,000 donation to the Wall of Remembrance
Aug 17, 2020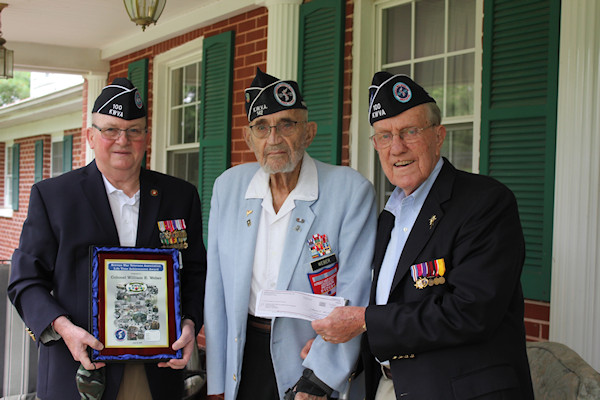 The rolling hills and colorful farms in eastern Maryland provided a wonderful setting for the presentation of a donation for $10,000.00 for the Wall of Remembrance, a KWVA Lifetime Achievement Award, and the new KWVA 70th Anniversary of the Korean War Challenge Coins to the Chairman Emeritus of the Korean War Veterans Memorial Foundation (KWVMF), retired U.S. Army Colonel William E. Weber. Bill is a longtime friend and supporter of the KWVA was the main driving force behind the Korean War Veterans National Memorial in Washington DC. The new KWVA 70th Anniversary of the Korean War Challenge Coins were created with Bill's image on the coin.
In support of the KWVMF's fund raising campaign for its Wall of Remembrance at the Korean War Veterans Memorial in Washington, DC, Korean War Veterans Association DC Representatives and National Directors Col. Warren H. Wiedhahn, USMC (Ret) and Col. Bruce R. "Rocky" Harder, USMC (Ret) met with Colonel Weber and his wife (and KWVMF Board member) Annelie on the front porch of their farmhouse today to present the KWVA's contribution to Bill for his lifetime support of our Korean War and Korean Defense Veterans.
Col. Weber stated that he was "quite pleased by the size of this donation" and hoped that more military-related organizations and associations would "follow the example set by the KWVA and contribute to this most worthy effort."
I would like to thank Fred Lash for contributing to the article and providing the pictures and our new KWVA DC Representatives Warren Wiedhahn and Rocky Harder for making the drive to Bill's house and representing myself and the membership of the KWVA.
Korean War Veterans Association
National President
Jeffrey J.Brodeur
Full Blog